ABOUT ME
I am Suraj, working as VP sales at Cloud Analogy. Being a Certified Developer (platform 1 & platform 2), I have engaged myself in salesforce consultancy, project manager as well as a tech lead. Having said that I have an industry experience of nearly four years in Salesforce. Being one among various Salesforce experts, I am contributing to fixing the community; I have come across an excellent understanding of Salesforce concepts and implementation experience of several Salesforce projects.
I vision for a dynamic environment where I believe to be self-motivated and maintain sporty spirit amongst my executives too. My approach towards the projects assigned is to be innovative and ingenious.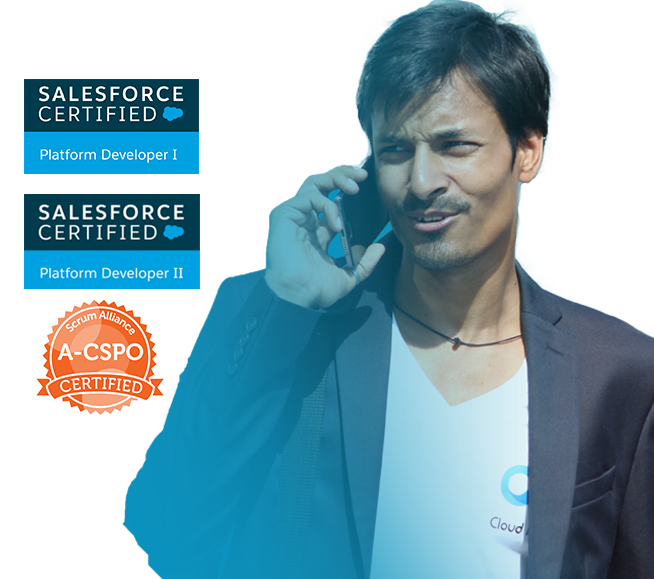 Welcome to Stripathi.com
Suraj Tripathi is the Salesforce Consultant of the company and he is responsible for document business needs, design and document solutions that fill the gaps and provide detailed business.
I always love to explore the new technologies to make my customer's life easy!!…
Responsibilities

Talking about my work experience

I have worked with a lot of companies to set up their org according to their need either customization or development I have helped them achieve their target, and I have always tried to get their appreciation as well which I have always understood because of my excellent output of work.

Expertise

I have developed 5+ products for appexchange like DragNDrop which is our(Cloud Analogy) personal app then there is Task and Notes Timeline Manager which is also Cloud Analogy's free app.

In all these years I have been through highly achieved experiences in

Apex

Aura

Javascript

Jquery

Bootstrap

HTML

CSS

Angular

Salesforce

various versatile languages like and much more. Salesforce Customization, Integration and UI as well.

I have also worked on some paid apps like Cincopa, ForecastEra Navigator App, etc.
What our clients says
Super fast solution design
Super fast solution design and Agile development model followed by the Consultants and Developers of Cloud Analogy have helped our team and management to clear problems being faced in Sales Cycle.
Mike Wall
Mike WallMike Wall
Expertise in Salesforce Consultations.

I asked them several questions and was happy to see them answer each one of them. After 2 months of support and development I am happy be highly impressed with their dedication and knowledge.
Paul Dobinson
Paul DobinsonPaul Dobinson
Courteous and Professional Experience

I took a chance, contacted Suraj, and before I knew it was receiving FIRST class help from Ajay and his team - who helped me quickly turn a corner on my project. I highly recommend this team and expect to work with them again soon.
See more...
Troy Stone
Troy StoneTroy Stone
Best support team I have worked with in last few years.

I have seen professional consultants but they have to take the project at a personal level and came up with awesome results.
See more...
Alen Denz
Alen DenzAlen Denz
CONTACT US.
Want to send us a message?